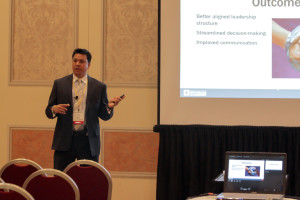 Lucere's founder, Dr. Peter Valenzuela, is a nationally-recognized speaker with an extensive background leading medical groups in the private, academic and integrated sector. Dr. Valenzuela's keynotes draw upon his personal experiences as a disruptive doctor sharing lessons on medical group leadership as well as inspiring organizational change. Dr. Valenzuela has delivered presentations throughout the country with each presentation custom-crafted to meet the needs of the audience.
Along with speaking engagements, Peter is an expert facilitator applying proven techniques to prepare organizations for the changes needed to solve their group's toughest problems while focusing on staff participation throughout all phases of the effort.
Recent Presentations
Creating a Successful Medical Group Culture and Well-being Plan. American Medical Group Association Annual Meeting 2017. Grapevine, Texas.
Developing Powerful Physician Leadership & Engagement. Medical Group Management Association Annual Meeting 2016. San Francisco, California. (Marc Mertz, Co-presenter)
Our Medical Group's 3-Prong Approach to Enhancing Culture and Provider Well-being. American Association for Physician Leadership (AAPL) Annual Meeting 2016. Washington, D.C.
Creating a High Performing Medical Group Through Assessment, Planning and Action. Medical Group Management Association (MGMA) Annual Conference 2015. Nashville, Tennessee.
Big Data Visualization: Mapping Your Future. Planning, Designing & Construction (PDC) Summit 2015. Innovating in Healthcare's Unchartered Territory. San Antonio, Texas (presentation was featured in Healthcare Design magazine)
Partnering with Foundations to Create Dyad Leadership Structures. American Association for Physician Leadership (AAPL) Annual Meeting 2015. Las Vegas, Nevada.
Aligning Medical Group Culture Using Performance Evaluations. Group Practice Improvement Network Semi-Annual Conference 2015. Savannah, Georgia
Please contact us to learn how we can help you and your staff be better prepared for change!